Somalia: Suicide car bomb attack on UN convoy near Mogadishu airport
Comments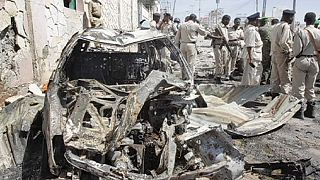 Several people have been killed in a suicide car bomb attack on a UN convoy near Mogadishu airport in Somalia
A policeman and two bodyguards, all three Somali nationals, are said to be among the dead.
The airport, with a tight security cordon, is used as a base for UN operations in Somalia. The area is also home to the British and Italian embassies and has been a regular target for attacks..
There was no immediate claim of responsibility but the Somali Islamist group al Shabaab has often used car bombs in the past.
The al Qaeda-linked group, which wants to impose its strict interpretation of Islamic law on Somalia, has launched a string of bomb and gun attacks in Mogadishu and other centres.
The blast comes the day after al Shabaab killed 36 non-Muslim workers in neighbouring Kenya which has sent troops into Somalia, joining other African Union forces in battling the militants.