Kerry says ISIL has been damaged by US-led coalition but battle may take 'years'
Comments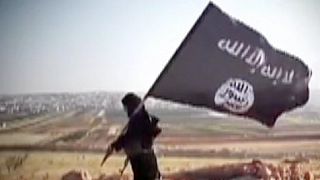 The US-led coalition fighting ISIL has inflicted serious damage on the extremists, carrying out around 1,000 airstrikes so far in Syria
and Iraq.
That is the message from the first meeting of ministers from over 60 countries that Washington has assembled to destroy the militant group.
Iraq's Prime Minister Haider al-Abadi joined the talks in Brussels.
Their host, US Secretary of State John Kerry, warned the fight could last for years.
"One outcome of this meeting will be a statement that encompasses our message: that we are united and moving ahead on all fronts and that we will engage in this campaign for as long as it takes to prevail," he said.
Backed by the coalition, the Iraqi army, Sunni tribal fighters and Kurdish forces have recovered some of the ground the jihadists won in large territorial advances last summer.
But the battle is also on the humanitarian front – with those who have fled the fighting ,leaving everything behind – in desperate need of help.
The talks were held at NATO headquarters but Kerry stressed it was not a NATO event.
He praised the role of Arab states in the fight against the group calling itself Islamic State. Apart from Iraq, the meeting included representatives from Kuwait, Bahrain and Morocco.