Iran strikes against ISIL 'positive', says John Kerry
Comments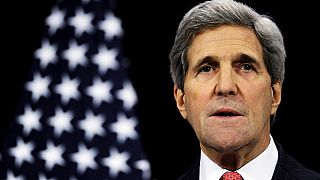 The US Secretary of State says "significant progress" has been made by the US-led coalition in fighting the self-proclaimed Islamic State militant organisation.
Laws to restrict the flow of foreign fighters and counter ISIL's toxic ideology
As for reports that Iran – not a coalition member – had bombarded ISIL targets in Iraq, John Kerry said if such action was restricted to the extremists and had an impact, then that was "positive".
Speaking after a meeting in Brussels of over 60 countries from the coalition, Kerry said two months of airstrikes had damaged ISIL's capabilities.
But he added that beating the extremists would take "years" and would involve more than a military struggle, rather a huge effort on several fronts.
"Defeating ISIL on the battlefield, restricting its finances, enacting laws to restrict the flow of foreign fighters and countering its toxic ideology," Kerry told a news conference.
The Secretary of State said more than two months of coalition airstrikes had made it much harder for ISIL to operate.
Earlier he said around 1,000 airstrikes had taken place so far in Syria and Iraq.
Iraq's Prime Minister Haider al-Abadi joined the talks in Brussels.
Backed by the coalition, the Iraqi army, Sunni tribal fighters and Kurdish forces have recovered some of the ground the jihadists won in large territorial advances last summer.
The coalition meeting ended with a joint statement proclaiming unity of purpose against ISIL.
Euronews correspondent James Franey reported from Brussels:
"There are a number of key questions still to be asked of the US-led strategy against ISIL. What future for Syrian President Bashar al-Assad? Where does it leave the other opposition forces fighting against him? And can military force really destroy a jihadist ideology? It's the strategy that the US and its allies have been using in the fight against al Qaeda for well over a decade."
The US Secretary of State John Kerry is to meet the Russian Foreign Minister Sergei Lavrov in Basel, Switzerland, on Thursday, say officials from both countries.