Ronaldo, Messi and Neuer named in Ballon D'Or shortlist
Comments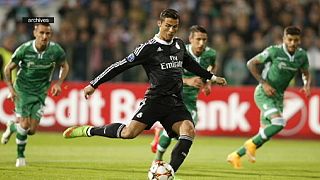 The initial 23-man list for this year's Ballon d'Or prize was whittled down to three on Monday.
To no great surprise last year's winner Cristiano Ronaldo made it to the podium.
The 29-year old scored 51 goals last season and helped Real Madrid to Champions League glory – the club's record tenth european crown.
Going against the former Manchester United forward was his and his nation's performance at the world cup – one goal for Ronnie and a group stage exit for Portugal.
Four-time winner Lionel Messi also made the shortlist and again to no great surprise.
The Argentine – who broke the La Liga and Champions League goalscoring record last month – has finished first or second on the accolade's award list in each of the last seven years.
With that said his record goal scoring feats came after voting finished and he hasn't won a trophy with Barcelona this year – although that didn't prevent Ronaldo taking the prize last year.
Bayern Munich's Manuel Neuer becomes the first goalkeeper to make the final three since Italy's Gianluigi Buffon in 2006. (Since 2010, the FIFA World Player of the Year awards merged with FIFA's Ballon d'Or – Oliver Kahn was last keeper to make final three of World Player of the Year in 2002).
Neuer helped Germany to the World Cup title this summer in Brazil and Bayern to last season's Bundesliga title thanks to stunning displays between the sticks.
The winner will be announced on 12 January.