Switzerland says "No" to immigration limit
Comments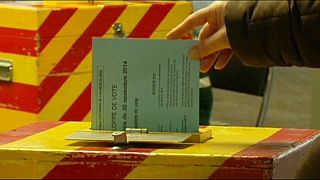 Switzerland appears to have overwhelmingly rejected a proposal to limit immigration to 0.2 percent of the population. Initial projections indicate that almost three-quarters of voters disagreed.
The measure would have seen net immigration fall from around 80,000 to 16,000 people per year.
The referendum included two other proposals, which also appear to have been rejected by a large margin.
One would have forced Switzerland's Central Bank to boost gold reserves to 20 percent from the present eight percent. That would have meant buying the precious metal on the markets.
The other would have scrapped certain tax advantages for wealthy foreigners.
But it was the immigration proposal that was the most controversial. Some perceive high levels of foreigners in the country as a dilution of Swiss values, but others argue that drastic limits would be bad for the economy by reducing skilled labour.