Kasai and Ammann share victory in Ruka
Comments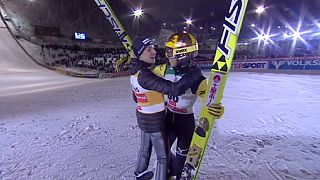 Japan's Noriaki Kasai and Switzerland's Simon Ammann kept their composure to share victory in the second event of the FIS Ski jumping World Cup in Ruka on Saturday.
Kasai cleared 145m with his first jump before sealing top spot with his second for a combined total of 272,2 points.
The 48-year-old, who holds the record for the most individual and team performances in the World Cup, was later joined by Ammann thanks to this remarkable second jump.
The Swiss cleared 144m while Germany's Severin Freund completed the podium, 3.5 points further back
Slovenia's Peter Prevc and Michael Hayböck finished fourth and fifth respectively.