Deadly attack on market stalls in China's Xinjiang region
Comments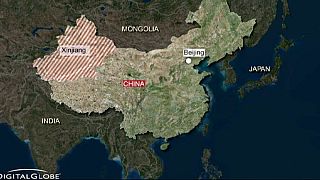 Up to four people have been killed and more than a dozen wounded after an attack in China's western Xinjiang region.
The state news agency said eleven of those who carried out the attack were also killed.
The group drove into a street of food stalls where they threw explosive devices and stabbed people.
The region is frequently hit by unrest with tensions between China's ethnic Han majority and the Turkic-speaking Muslim Uighurs who say they are discriminated against.