2014 Jeju Grand Prix: Home advantage
Comments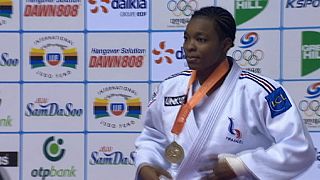 South Korea's Jiyoun Kim produced a stunning performance to outclass compatriot Eun-Ju Lee in the over 78 kilo class at the Jeju Grand Prix on Saturday.
The former Paris Grand Slam bronze medallist dominated her opponent from the outset and eventually won on shido penalties while Dong Han Gwak reigned supreme in the under 90 kilo category.
The local favourite went ahead with a waza-ari from an osoto-gari before bringing the crowd to their feet with a perfectly executed morote-eri-seoi-nage for ippon.
In the under 100 kilo class, South Korea's Guham Cho steered his country to the top of the podium once again with a convincing win over Beijing Olympic champion Tuvshinbayar Naidan.
The bronze medals were won by Germany's Dimitri Peters and Toma Nikiforov of Belgium.
France's Teddy Riner eased to victory in the heavyweight category.
The seven-time world champion looked in great shape and proved too strong for Sung-Min Kim who was repeatedly penalised for false attacks and negative gripping.
World silver medallist Audrey Tcheumeo handed France its second gold medal of the day as she outclassed Abu Dhabi Grand Slam winner Luise Malzhan of Germany.
Local hope Mi-Young Choi and America's Kayla Harrison took bronze.