Fatal clashes in Egypt as Islamist protests fail to draw large crowds
Comments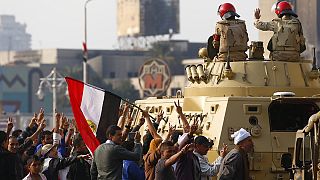 Security forces have clashed with Islamist protesters in Egypt, leaving at least two dead and 20 or so wounded.
Hours earlier a senior army officer was killed and two soldiers wounded in a drive-by shooting near Cairo.
In the Cairo suburb of Matariya, shots rang out amid chaotic scenes and one person was killed.
A friend of the dead man accused the police of firing indiscriminately on the demonstrators.
By and large, a call by Salafists for nationwide rallies to topple the government failed to draw large crowds.
Instead, in Matariya supporters of the security forces made their loyalty clear.
Those who tried to protest against the government were quickly dispersed.
The Salafi Front which called protesters to take to the streets urged them to remain peaceful.
So did the Muslim Brotherhood which gave its backing to the rallies.
But the overtly religious tone – the protest was called the "Uprising of Islamist Youth" – alienated secular critics of President al-Sisi's government and restricted turnout.