2014 Jeju Grand Prix: Agbegnenou seals emphatic win
Comments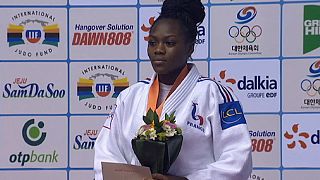 The final Grand Prix of the year, Jeju 2014, produced a blistering second day as the top seeds battled it out at the Halla Sports Complex on Friday.
France's Clarisse Agbegnenou, competing for the first time since winning the world title in August, outclassed Spain's Isabel Puche in the under 63 kilo final while compatriot Gevrise Emane proved too strong for her opponents in the under 70 kilo category.
The Olympic bronze medallist edged out Laura Vargas Koch to secure the title with Assmaa Niang and Lior Wildikan taking bronze.
In the men's event, local favourite Changrim An gave the crowd something to cheer about as he reigned supreme in the under 73 kilo class.
The Junior world champion looked in great shape and downed Israel's Sagi Muki with a perfectly executed tai-otoshi.
Meanwhile South Korea's Jae-Bum Kim produced a superb display to retain his Jeju Grand Prix title. The 29-year-old, who will be looking for a third Olympic medal at the Rio Games in 2016, beat Belgium's Joachim Bottieau in the showpiece match.
The bronze medals were won by Dagvasuren Nyamsuren and Ki-Chun Wang of South Korea.