Ukraine's new pro-Western parliament holds first session
Comments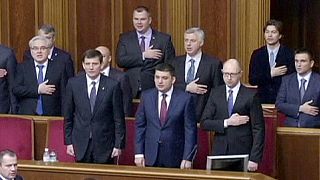 Ukraine's recently elected pro-Western parliament has held its first session.
Kyiv's new coalition is led by the parties of President Petro Poroshenko and Prime Minister-elect Arseniy Yatsenyuk.
They are committed to making NATO membership a priority, further cementing the country's tilt towards the West.
The parties have agreed to work together towards integration into the European Union.
The new parliament wants to see an end to the crisis in Donetsk and Luhansk.
Ukraine's President Petro Poroshenko has warned eastern rebels that the army is ready to fend off any attack if a fragile ceasefire crumbles.