Australian batsman Hughes, 25, dies after being hit by cricket ball
Comments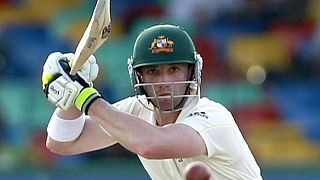 Australian cricketer Phillip Hughes died in hospital on Thursday, two days after the batsman was struck on the neck by a short-pitched delivery, with the force of the blow piercing his vertebral artery.
After collapsing at the stadium, the international batsman, who played 26 tests and 25 one-day internationals, was treated by the boundary before being rushed to a Sydney hospital. There he underwent emergency surgery to reduce pressure on his brain, before being placed in an induced coma.
He died in hospital aged 25.
After the tragic news was announced, cricket officials from Pakistan and New Zealand chose to postpone the second day's play in the third and final Test between the two countries.