Cash-strapped Russian tourists stay away from Austrian ski resorts
Comments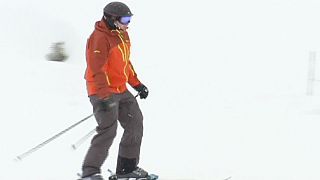 Alpine ski resorts say they are expecting a significant decline in the number of Russian tourists due to the Ukraine crisis and a weak Russian economy.
Moscow's standoff with the West have made many Russian think twice about travelling to Europe.
The rouble's fall by more than a fifth against the euro is also hitting people in their pockets, according to Austrian tourism official, Carmen Fender from Oetztal Tourismus.
"This winter we are expecting a drop-off of about 20 percent [in the number of Russian tourists]. We are already really noticing that a few tour operators whose cooperation was very important for us have disappeared from the market. We are also seeing that in general there are fewer enquiries and thus fewer bookings from Russia and Ukraine," said Fender.
It could be a major blow for a sector used to seeing fashion-minded and free spending Russians buy chic ski gear and generally treating themselves.
Russian tourism numbers dropped by as much as ten percent in the summer months and Alpine hoteliers fear the decline could now accelerate in the crucial winter season as the rouble crisis gathers pace.