Iran's Supreme Leader "tweets" anger over atomic talks failure
Comments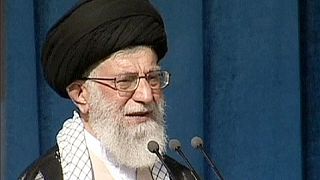 A Twitter account believed to be run by the office of Iran's Supreme Leader has been used to attack western leaders over the failure to reach a deal at nuclear talks.
Ayatollah Ali Khamenei allegedly said "arrogant" powers had tried to bring the Islamic Republic to its knees and will never be able to do so.
In the #nuclear issue, arrogants have made their best to bring #Iran to its knees but they were not able and will not be able to do so.

— Khamenei.ir (@khamenei_ir) 25. November 2014
On Monday Iran and the six world powers failed to resolve their 12-year dispute. Tehran insists it is not to blame for the deadlock.
Mohammad Javad Zarif, Iran's Foreign Minister said: "Well, the major obstacle was that there is a compounded mistrust. Mutual. From our perspective we are not worthy of mistrust. We believe that Iran is a trustworthy country and we have shown in the past one year that we have lived up to every commitment that we've made."
Following the collapse of the second effort this year, Iran and the six world powers have given themselves a further seven months to overcome the deadlock.