'New proposals' over Iran nuclear programme as talks drag on
Comments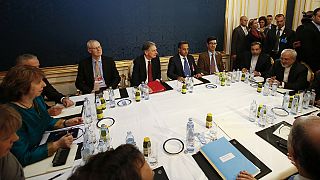 Sources close to the talks over Iran's nuclear programme say the top Iranian and US diplomats are working on new proposals aimed at breaking the deadlock.
They say ideas are being drawn up which could be shown to both countries' capitals ahead of Monday's deadline.
US Secretary of State John Kerry has been meeting the Iranian Foreign Minister in Vienna and has cancelled a planned visit to Paris.
But Mohammad Javad Zarif has been quoted as saying he has heard "no new ideas".
The talks have dragged on for more than a year.
Six world powers representing the UN are aiming to set limits on Iran's nuclear programme in return for an end to sanctions that have seriously hurt its economy.
Iran rejects Western suspicions that it is looking to develop nuclear weapons, saying it needs atomic power to generate electricity.