Cricketer Hughes in critical condition
Comments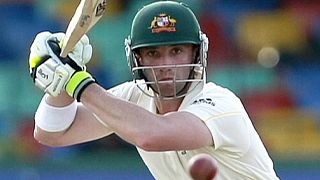 Australia cricketer Phillip Hughes has been left in a critical condition after being hit in the head by a ball during a domestic league match in Sydney.
The batsman was struck just behind the ear following a bouncer delivered by New South Wales fast bowler Sean Abbott.
After collapsing, the 25-year-old was stretchered off and taken to a nearby hospital where he was placed in an induced coma following surgery to relieve swelling on the brain.
An update on his condition is expected on Wednesday.
Hughes has played 26 test matches and 25 one-day internationals for Australia and was tipped to replace injured captain Michael Clarke for next week's test match against India.