Missouri town waits anxiously for decision on police shooting of teenager
Comments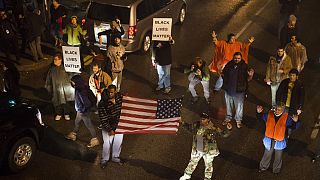 Residents of Ferguson, Missouri attended church services on Sunday as they await a grand jury's decision over whether to bring criminal charges against a white police officer who fatally shot a black teenager this summer.
The case has become a flash point for US race relations sparking protests and unrest in the town.
Eighteen-year-old Michael Brown was shot by officer Darren Wilson who claimed he acted in self-defence. Brown's companion said the teenager had his hands raised at the time.
It is feared that if the jury decides not to indict Wilson there will be more unrest.
Missouri Gov. Jay Nixon has declared a state of emergency and called in National Guard troops to back up police, which protesters have criticised as heavy-handed.