Iraq's defence minister holds talks with Yazidi
Comments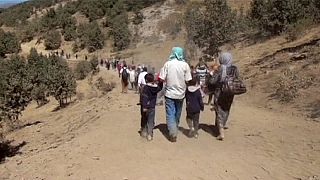 Iraq has been holding talks with a Yazidi community delegation as Kurdish forces prepare a mountain offensive against Islamic State militants.
Defence Minister Khalid al-Obeidi confirmed that the country will provide the Yazidi community with weapons and ammunition as well as supporting them with air strikes.
Yazidi field commander Sheikh Tu'ma Suleiman welcomed the move and also stressed that some 2,000 families who are still besieged in the Sinjar mountains will be helped to move to a safe place.
Islamic State fighters attacked the Sinjar area in August, forcing thousands of Yazidis to seek shelter in the craggy mountainous area. Its awkward geography has made it difficult to penetrate.
Kurdish forces are now massing to break the siege imposed on Yazidi families.
Estimates of the number of people still stranded on Sinjar mountain vary from 10,000 to fewer than 1,000.