Belgian firm accused of lying over bulldozing of homes
Comments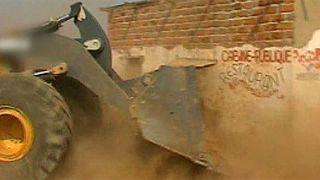 Belgian mining company Groupe Forrest International has denied accusations of being involved in the bulldozing of hundreds of homes in the village of Kawama in the Democratic Republic of Congo in 2009.
Amnesty International claims police sent bulldozers into the village, giving people no notice of the demolitions, for which there was no legal basis. The charity says the bulldozers were supplied by a GFI subsidiary.
During October and November 2009, hundreds of artisanal miners took up temporary residence in and around Kawama and began unlawfully extracting copper and cobalt from the nearby mine.
Amnesty alleges the company contacted the provincial governor to complain about the alleged theft of minerals and equipment. The police soon came to the area, warning those taking the minerals to leave the village or they would be removed. There was no warning of any plans to evict villagers or demolish their homes, says the human rights body.
Days later 300 armed police returned and tore down houses. They destroyed the homes with bulldozers supplied by GFI's sister company Entreprise General Malta Forrest.
"There is now overwhelming and irrefutable evidence showing that the forced evictions that Groupe Forrest International has denied for years in fact took place," said Audrey Gaughran, Amnesty International's Global Issues Director.
"It is shameful for a mining giant to lie and deny people justice. It is time for them to finally come clean and compensate the villagers for what they lost."
GFI has denied any wrongdoing and says only temporary homes belonging to small-scale miners were bulldozed and the demolitions were legal.
But Amnesty International says it has obtained satellite imagery, video footage and the files of a criminal investigation by a government Prosecutor, containing irrefutable evidence that this is not the case.
The company subsequently withdrew from the mining concession and the mine has reverted to state ownership.