Tunisia votes: "We're looking for someone to save the country"
Comments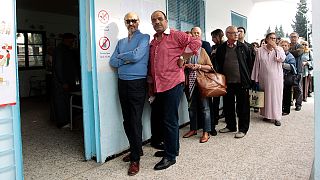 Tunisians are heading to the polls to vote for their first directly elected president since the 2011 revolution ended the rule of Ben Ali.
The contest pits a new generation of politicians who emerged from the Arab Spring against the old guard.
Those queuing to vote had high hopes for the outcome.
"We're looking for someone to save the country" said a woman waiting to vote.
"Today is a party. We're hoping for a good president. Someone who will bring us prosperity, that's crucial," said a man in the queue.
Beji Caid Essebsi, seen as the frontrunner, turns 88 next week.
He leads the Nidaa Tounes party which won the most parliamentary seats.
He's promised stability but his critics stress his links to the one-party rule of deposed president Ben Ali.
His main opposition comes from Moncef Marzouki, an academic and human rights activist who has served as president since 2011.
He's warned against the return of former officials from the old regime.
The result could hang on the support of Ennahda's voters, as the party did not put forward a candidate.
If no one wins a clear majority it will go to a second round to be held in late December.
Whoever wins faces the tough task of rebooting the economy and tackling the Islamist militant threat which emerged in the wake of the revolt.