UKIP on the march after second British by-election win
Comments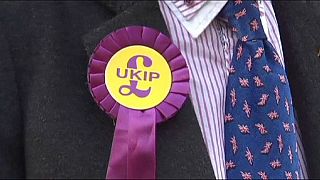 The British anti-immigration, anti-European UK Independence Party has its second member of parliament after winning another by-election.
Mark Reckless dealt another blow to the coalition government by taking the seat in Rochester and Strood.
Reckless was the sitting MP in the constituency southeast of London, but the ballot was called after he defected from the Conservatives.
He won the contest by nearly 3,000 votes, a smaller margin than some had predicted.
UKIP wants to reduce immigration sharply and pull Britain out of the European Union.
"We want to lift our eyes to horizons beyond Europe. We are linked by commerce and kinship, by language and law, by habit and history, to the wider English-speaking world," Mark Reckless said in his victory speech.
The result is a further boost for UKIP's leader Nigel Farage. His influence and that of his party look set to dominate next year's general election campaign, causing havoc for mainstream parties and threatening to split Britain's traditional two-party system.
The outcome is bad news for other parties, especially the Conservatives who had thrown their weight behind their candidate. Prime Minister David Cameron had visited the constituency several times hoping his promise of a referendum on renegotiated EU membership would pay off.
The EU's principle of free movement is unpopular with many Britons who have witnessed a wave of migrants from eastern Europe in recent years.