Man charged on day of funeral for murdered Miss Honduras
Comments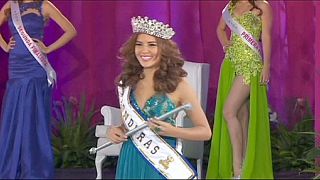 The funeral has taken place in Honduras of two murdered sisters, one of them a beauty queen due to compete in the Miss World pageant.
On the same day the boyfriend of her sister, who police believe was the killer, was formally charged.
María José Alvarado, who was 19, and her 23-year-old sister Sofia were last seen leaving a party last week.
Police say their bodies were found buried near a river in the mountainous Santa Barbara region in the west of the country.
It's thought that Sofia's boyfriend Plutarco Ruiz shot her in a fit of jealousy after seeing her dancing with someone else, before turning the gun on her elder sister.
Miss Honduras had been due to fly to London to take part in Miss World next month.
The killings have shocked the poor Central American country, which has the highest murder rate in the world with 90.4 murders per 100,000 inhabitants – almost twice that of nearby countries with high crime such as Venezuela and El Salvador.
Honduras is also riven by drugs-related violence, with rival cartels engaged in transporting cocaine to the United States.