Fresh protests in Naples over Renzi's job reforms
Comments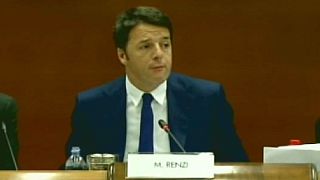 Italy's centre-left Prime Minister is feeling the pressure as he goes head to head with trade unions over job reforms.
Fresh protests took place in Naples on Friday over Renzi's plans to overhaul job protection as he met with heads of Italian industry in Rome.
The Jobs Act would make it easier for businesses to fire workers with the aim of making the market more flexible and creating jobs.
Renzi announced to business leaders that obstacles to investment were being removed,adding that he was 'freeing up the traditional Italian system'.
In Naples the metal workers' union fear the reforms would errode worker's rights and let their objections be known.
"The real point is that Renzi doesn't have the consent of workers and job seekers in this country. So he should understand that if he really wants to change this country he has to do it with the people who work here and with the people who really want to change (the country)," explained Maurizio Landini, General Secretary FIOM (Italian Federation of Metalworkers).
A general strike is planned for December 12, a decision blasted by Renzi who said unions were inventing reasons to strike while he worked to cut unemployment levels.
The Jobs Act will be put to a final parliamentary vote on December 9, which could mean it would be a reality by January next year.