Spain MPs vote to recognise Palestinian state
Comments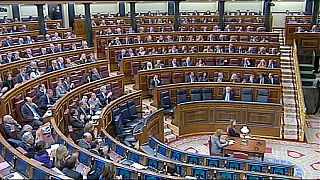 Spanish MPs have urged their government to recognise the Palestinian state.
The non-binding resolution presented by the socialists won the backing of all the political groups of the lower house, and would only ask for recognition when the Palestinians and Israel negotiate a solution to their long-running conflict.
"The Spanish Parliament unanimously believe that the recognition of the Palestinian state is the best contribution we can make to achieve peace. This message should be understood as a decision that doesn't go against anything or anybody," said Socialist party congresswoman Trinidad Jimenez addressing the chamber.
The vote reflects the growing impatience in Europe for a solution to the Israeli-Palestinian conflict, heightened after this summer's 50 day war in Gaza.
British and Irish MPs voted for a similar symbolic motion in October, while French lawmakers will vote on a proposal on November 28.
The Swedish government went one step further and became the first EU country to officially recognise the Palestinian State, bringing the total number of countries which recognise Palestine to 135.