Israel vexed at Spain's move to recognise Palestinian state
Comments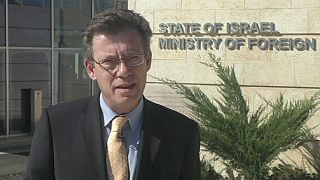 Israel has reacted with disappointment that Spain's parliament will support the recognition of a Palestinian state.
Spain's symbolic move was intended to promote peace between the Palestinians and Israel.
Britain and Ireland approved similar motions last month.
Nearly two hundred nations recognise a Palestine state, including Sweden, and most of Asia, the Middle East and South America.
The Israeli government has dismissed Spain's move.
"We think that such declarations of parliaments throughout Europe only contribute to the feeling of the Palestinians that they do not need to negotiate," said Israeli foreign ministry spokesman Emmanuel Nahshon.
In the West Bank, Palestinians welcomed the Spanish parliament's move.
"There is a momentum now to engage positively to recognise a state of Palestine and to invest in just peace otherwise Israel will pursue its policies of destroying the two state solution, destroying the chances of having a viable Palestinian state," said Palestinian Authority official Hanan Ashrawi.
While the initiative does not significantly shift Spain's Middle East policy, Madrid is hoping to inject momentum in the search for a two-state Israeli-Palestinian solution.
"We have the feeling that time is running out," Foreign Minister Jose Manuel Garcia-Margallo told reporters in Brussels. "Either we do something quickly or the two-state solution will be physically impossible.
Meanwhile Israel has advanced plans to build 1,000 homes for Jewish settlers in predominately Arab East Jerusalem.
"If pursued, these plans would once again raise grave doubts about Israel's commitment to achieving durable peace with the Palestinians as the new settlements threaten the very viability of the future State of Palestine," UN Under Secretary-General for political affairs Jeffrey Feltman told a meeting of the UN Security Council last month.
Palestinian observer Riyad Mansour said Israeli settlements were eroding the future Palestinian state, of which East Jerusalem is to be the capital.