Albania floods kill at least 3 people
Comments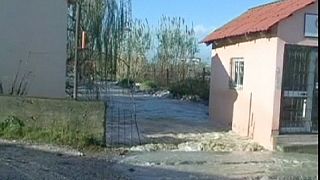 Flooding in Albania has killed at least three people. Torrential rain caused power cuts and water outages. Schools were closed in the west and south of the country.
A 60-year-old man and his 26-year old daughter were found dead after their car was swept away by floodwaters in Lac, northwest of the capital, Tirana, late Tuesday.
A 21-year-old motorcycle driver was also found dead in Lac, while his teenage passenger was rescued.
Army troops were on standby to help emergency workers with evacuation efforts.
"The children were screaming and crying," said one unidentified woman whose house was flooded. "I did not know what to do. We decided to put them in a room in the second floor where it is higher."
Authorities have evacuated families from five buildings.
The flooding hindered hospital and other public services and damaged a large area of farmland.
As the bad weather continued, the number of affected areas increased throughout Wednesday.
In neighboring Greece, weather warnings were issued for nearby parts of the country.