US Justice Department condemns Ferguson leaks
Comments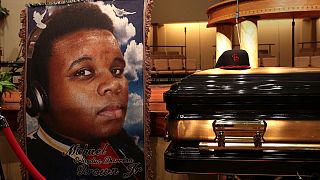 A series of leaks from the investigation into the shooting of Michael Brown by a police officer in Ferguson has been condemned by the United States Justice Department.
Brown, 18, was shot on August 9 and the circumstances surrounding his death have been disputed. His killing was followed by weeks of civil unrest.
The leaks appear to support the account of Ferguson police officer, Darren Wilson, who shot the teenager. They seem to corroborate his version of events that there was a struggle and he opened fire when Brown allegedly went for his gun.
A Justice Department spokesman has called the leaks "irresponsible and highly troubling". The spokesman added: "There seems to be an inappropriate effort to influence the public opinion around this case."
The official went on to say that the selective leaks have left Attorney General Eric Holder "exasperated".
Leading members of the Ferguson community have hit out at the continual stream of reports and leaks from anonymous sources complaining of a "trial by media".​