[AS IT HAPPENED] Ukraine legislative elections
Comments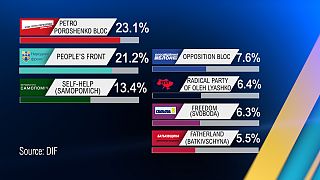 * Ukraine went to the polls on October 26 in a crunch parliamentary election.
* By 23:30 CET on October 26, the exit polls put the Petro Poroshenko Bloc in the lead, with 23.1% of the vote.
* Pro-Europe parties dominated.
* Arseniy Yatsenyuk's People's Front party was polling in a close second position, with 21.2% of the vote.
* Yatsenyuk seems likely to retain his position as Prime Minister of Ukraine.
* President Petro Poroshenko announced coalition talks would begin on Monday, October 27.
* Polls suggested the Opposition Bloc (grouping together allies of former President Viktor Yanukovych) was sitting in fourth place, with around 7.6% of the vote.
* The polls also suggested there will be no Communist party in the Ukrainian parliament for the first time since the country gained independence in 1991.
* Voter turnout stood at just over 50 percent, according Ukraine's electoral commission.
* These figures give a glimpse of voting for 250 of the 450 seats in parliament.
* Another 198 MPs will be elected from individual constituencies.
* 29 political parties and over 3,500 individual candidates were registered by the Central Electoral Commission.
* The one-chamber parliament (Rada) has 450 seats, meaning a simple majority of 226 MPs is required to form a coalition, which will put forward a candidate for prime minister.
* Darth Vader was prevented from voting at a polling station in Kyiv.