NASA has shown some spookly-good timing with the release of these remarkable pictures of the sun.
The images, captured by the space agency's Solar Dynamics Observatory (SDO), bear a resemblance to a jack-o-lantern's face.
The faces are commonly carved into pumpkins to mark Halloween, celebrated on October 31.
NASA, explaining the image, said: "The active regions in this image appear brighter because those are areas that emit more light and energy.
"They are markers of an intense and complex set of magnetic fields hovering in the sun's atmosphere, the corona.
"This image blends together two sets of extreme ultraviolet wavelengths at 171 and 193 Ångströms, typically colorized in gold and yellow, to create a particularly Halloween-like appearance."
The SDO satellite, launched in 2010, is taking a closer look at the sun, still a mystery to scientists.
NASA says the mission will "help us understand where the sun's energy comes from, how the inside of the sun works and how energy is stored and released into the sun's atmosphere".
PICTURE GALLERY
NASA: Solar Dynamics Observatory (SDO)- Sun captured looking like a jack-o-lantern's face ahead of Halloween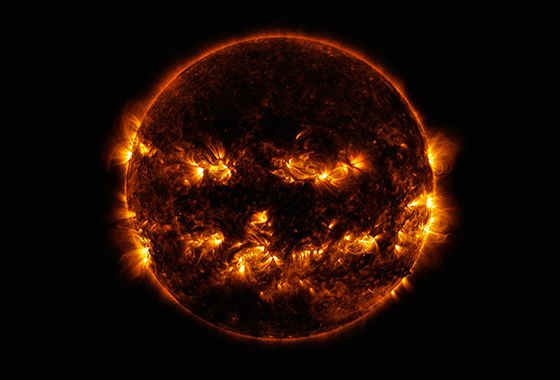 Sun captured looking like a jack-o-lantern's face ahead of Halloween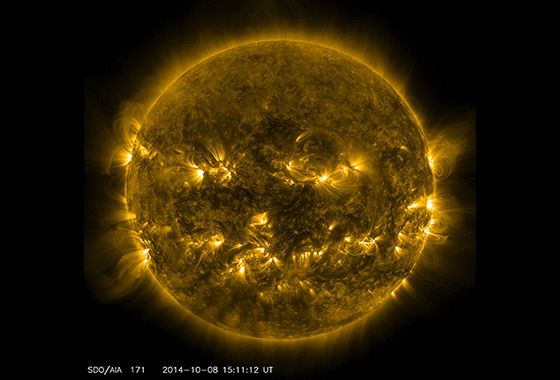 Sun captured looking like a jack-o-lantern's face ahead of Halloween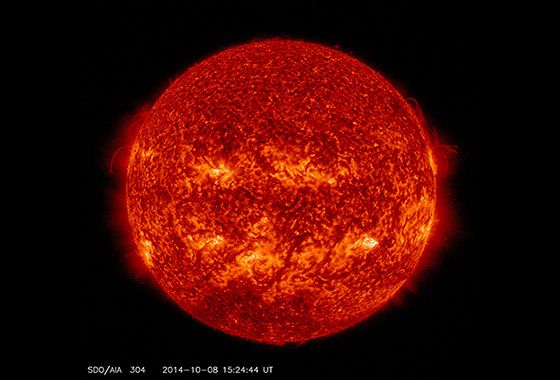 Sun captured looking like a jack-o-lantern's face ahead of Halloween