Britain: Six arrested on terror charges
Comments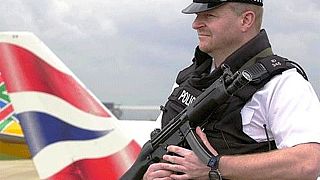 A series of dawn raids across south eastern England on Tuesday (October 14) have resulted in the arrest of six people on terror charges.
Three men and three women from Portsmouth, Farnborough and Greenwich were reportedly taken into custody on charges relating to the ongoing conflict in Syria. Police confirmed the majority of those detained are thought to have helped others, rather than having travelled to the war-torn country themselves.
A spokesperson said the arrests were "not linked to any immediate threat to local communities or anywhere else in the UK."
The suspects have not yet been named. Of the six, two men aged 23 and 26 and two women aged 23 and 29 were arrested on charges related to suspected terrorism and a 48-year-old woman was detained on suspicion of failing to disclose information about terrorism. A 57-year-old man is being held on the same charge and is also suspected of "engaging in conduct in preparation of terrorist acts and arranging availability of money and property for use in terrorism," according to police.
British media reports suggest a house raided by ten police officers in Portsmouth was the family home of a British jihadist who was killed in Syria in December while fighting government troops.
A day earlier, counter-terror officers made three arrests in London. The men aged between 21 and 25 are suspected of involvement in an alleged ISIL-inspired plot, officers disclosed. They believe they have potentially disrupted the early stages of what may have turned into a "significant plot", the officers added.