Αmal Alamuddin Clooney gets back to work in Greece
Comments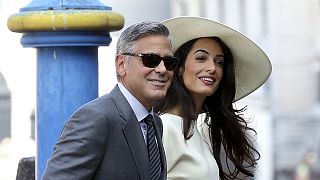 Amal Alamuddin Clooney is back to work. Fresh from her marriage to Hollywood actor George Clooney in Italy last month, the human rights lawyer is now advising the Greek government in its fight to repatriate the ancient Parthenon Marbles statues.
The Greek sculptures were removed from the Parthenon (in the Acropolis) in the 19th century by Scottish aristocrat Lord Elgin and taken to London. For decades Greece has campaigned for their return from the British Museum, to no avail.
Lebanese-born Alamuddin Clooney and her boss Geoffrey Robertson were asked in 2011 to provide legal advice on the issue, according to a statement from Doughty Street chambers, the firm she works for.
"Mr Robertson and Mrs Clooney were first asked to provide legal advice to the Greek government on this matter in 2011. They will be holding a series of meetings with government officials during their stay," it read.
The pair will meet Greece's Prime Minister Antonis Samaras and Culture Minister Konstantinos Tasoulas during their three-day visit to the capital Athens.
Britain-based Alamuddin Clooney is no stranger to high-profile cases, having previously represented Ukraine's former Prime Minister Yulia Tymoshenko at the European Court of Human Rights and Wikileaks founder Julian Assange in extradition proceedings.
Greece says the fate of the 2,500-year-old Marbles is no longer a question of ownership and has said it would accept their return on permanent loan. It wants to exhibit the artworks in a purpose-built museum at the base of the Acropolis Hill; on which the Parthenon stands.
However, if Greece accepted them on permanent loan, the British Museum says the country would have to relinquish its claim to them.
Earlier in 2014, George Clooney ruffled feathers in Britain by suggesting the return of the Marbles to Greece was "probably the right thing to do."
The Trustees of the British Museum maintain the sculptures legally belong to the museum.