EU-US trade deal 'doomsday for democracy', warn protesters
Comments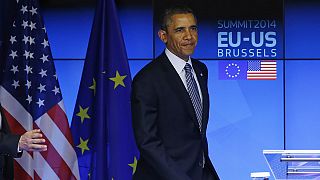 Saturday 11 October is a day of major protest in hundreds of towns and cities across Europe, over a proposed free trade agreement between the European Union and the United States.
Supporters of the Transatlantic Trade and Investment Partnership (TTIP) say it means economic growth and jobs, the biggest trade deal in the world. Critics say it's a farewell to hard-fought EU standards and guarantees. Both sides feel there is a lot worth talking about, worth fighting for.
Some commentators call it the most talked-about trade deal in a generation. According to a European Commission estimate, TTIP could boost the EU economy by 0.5% of GDP, and the US economy by 0.4% of GDP.
The hottest item is about giving greater power to the powerful. The TTIP nay-sayers warn that elected government is supposed to act primarily in the best interests of the people, and not primarily in the best interests of very large companies, and that this must be preserved.
Yet multinationals might soon have the opportunity to 'legitimately' over-ride governments, under a TTIP proposal to let them sue them if they believe a government is limiting their profits. (Note that lobbying and corruption already put pressures on good government, though lobbying can be constructive, as well.)
Many believe that proposal places democratic decision-making at risk. That's why so many protests are planned for this Saturday.