Victories for Chelsea and Juventus
Comments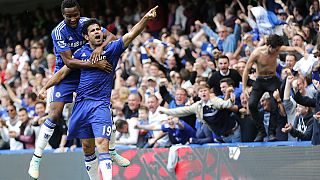 Welcome to our weekly foray into the wonderful world of football.
It is a bit of an understatement to say it seems Arsene Wenger and Jose Mourinho do not like each other. But no-one could have expected the pair to go toe-to-toe in a push and shove tussle over technical areas as Chelsea welcomed Arsenal to Stamford Bridge.
The match saw Chelsea maintain their lead in the English Premier League with victory over their London rivals.
Eden Hazard put the Blues ahead from the spot and Diego Costa sealed the win victory but Mourinho and Wenger stole the headlines with a touchline push and shove match that could see the Gunners boss face disciplinary action.
Dubious penalty decisions are the big talking point after Serie A's top teams met and Juventus defeated Roma 3-2. Some commentators have suggested the matter be debated in the country's parliament.
But there was no doubt over the quality of the winner, Leonardo Bonucci describing his spectacular volley as "the most beautiful and important of my career."
In Germany, Borussia Dortmund's early season Bundesliga slump hit a new low when they lost 1-0 to struggling Hamburg.
Last season's runner-up did spring into life late in the game but despite an attack final 20 minutes, they could not find the back of the net.
PREDICTIONS – THECORNERSCORES
We are often right but sadly more often wrong, the sports team have got a good feeling, however, about this week's qualifiers for Euro 2016. Send us your predictions, on the social networks… #TheCornerScores.
UP & DOWN
Now our look at who's had a week to remember and who's had a week to forget…
Sitting seven points clear at the top of the table, Marseille coach Marcelo Bielsa probably does not want to welcome the international break.
The southern French side's victory away to Caen at the weekend was their seventh successive win and the Argentine's tactician seems to have finally found his feet after a stormy start which saw him clash with the club's president.
But it has been a week to forget for his fellow Argentine Lionel Messi. The Barcelona forward faces trial for tax evasion after a Spanish court rejected his appeal.
A court decided he could have known about and approved the creation of a web of shell companies that were allegedly used to evade taxes on income from image rights.
Messi and his father have been accused of defrauding the Spanish state of more than four million euros and have denied any wrongdoing.
Also falling foul of the law…Atletico Madrid captain Gabi admitted to prosecutors in Spain he played a role in a match-fixing scandal during his time at Real Zaragoza.
It has been reported he told officials he was just following orders from the club.
The scandal relates to Zaragoza's 2-1 win over Levante in 2011, a result that saw the Aragon club avoid relegation.
ON THISDAY
What is 85 years old and still scoring several times a week across the country? Italy's Serie A is like a senior footballing citizen celebrating and still going strong. The national league kicked off on this day, October 6, 1929.
The pick of the results from the first day of the competition included a 3-2 win for Juventus over Napoli, a 3-0 win for Lazio over Bologna, and Internazionale beating Livorno 2-1 away. Inter built on that win and went on to win the first ever Serie A championship