All you need to know about the Hong Kong protests
Comments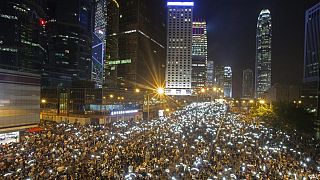 HONG

KONG

FACTS

+

FIGURES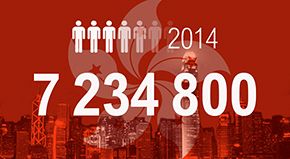 * Population: 7,2m (2014)
* Unemployement rate: 3.3% (July 2014)
*

GDP

per head: $42,140 (33,466 euros)
* Total area: 1,103 sq km
* Population density 6,845 people per square km
CHINA

FACTS

+

FIGURES
* Population: 1,357 billion (2013)
* Unemployement rate: 4.1% (June 2014)
*

GDP

per head: $7,740 (6,145 euros)
* Total area: 9,562,911 sq km
* Population density 145 people per square km
* Mainland China is HK's main trade partner
Hong Kong, a region of south-east China, has seen its biggest demonstrations since gaining independence from Britain in 1997.
The protests were sparked when Bejing decided against having open nominations for the election of Hong Kong's leader in 2017.
China had promised direct elections but in August said voters would be able to choose from a list of candidates chosen by a largely pro-Bejing nominating committee.
The issue has been bubbling away for some months.
Back in June, Ocuupy Central arranged a referendum that asked voters to choose one-of-three proposals for the 2017 election. All involved people being able to nominate candidates for the chief executive role.
Then, on July 1 – the anniversary of Hong Kong being handed back to China – thousands took to the streets for a pro-democracy rally.
BRITAIN

'S

LEGACY

?

When Hong Kong was handed back to China, Bejing agreed to govern the city on a 'one country, two systems' principle.

Put simply this allowed the region to retain its capitalist economy, while the rest of China continued with its socialism-based system.

It gave Hong Kong more autonomy, its own legal system and the right of free speech.

Yet faith in the concept is plummeting.

In July 2007, 74.9 percent of Hong Kong's population were confident with it; by July 2014 that had dropped to just 37.6 percent.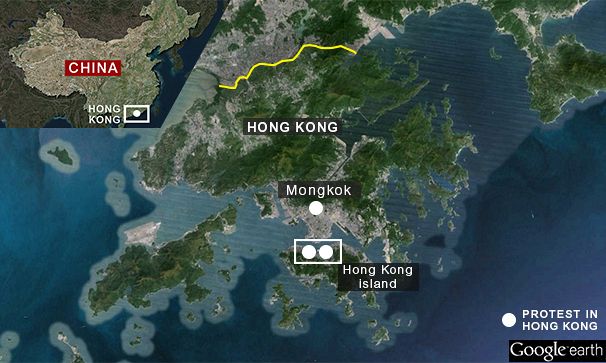 HOW

DID

IT

UNRAVEL

?

The drop in confidence was likely linked to a white paper issue by the Chinese government in July, which argued Hong Kong's civil rights weren't 'inherent rights', instead privileges granted by the central government.

While in July it was policy, in August it became 'practice'.

Bejing made good on its implied threat, announcing candidates for the 2017 election – meant to be the first fully democratic election in Hong Kong's history – would need to be approved by a pro-Beijing committee.

This violated China's pledge for those elections to be free and democratic, infuriating citizens of Hong Kong.



HOW
THE
PROTESTS
UNFOLDED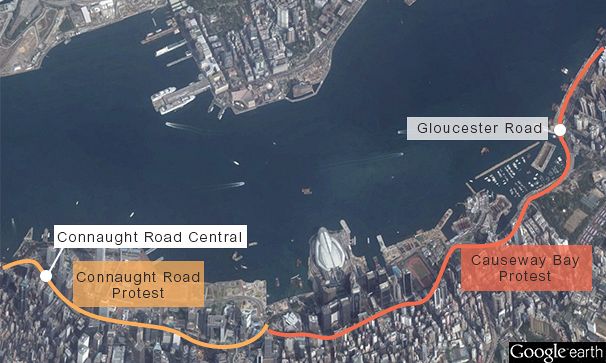 WHO

'S

WHO

?

Benny Tai

The law professor from the University of Hong Kong initiated the Occupy Central campaign.

Tai has spoken of his pride at people's determination to fight for "genuine" universal suffrage.

He believes he will face heavy punishment for initiating the movement, reports Reuters.
Benny Tai, Occupy Central co-founder, received a gift. He's lost his voice after hours of rallies & interviews. pic.twitter.com/mDIdhVkqHX

— Alan Wong (@byAlanWong) September 29, 2014
Leung Chun-ying
This is Hong Kong's current chief executive or leader.
The pro-democracy camp want him to resign because they say he hasn't taken their views into account for free elections.
He was pledged strong action against the protest movement and said China will not back down.
Leung Chun-ying with his wife, Regina pic.twitter.com/JAfOkf2QmP

— vanessa favaretto (@vanessafavarett) September 30, 2014
Joshua Wong
Wong, at 17, is one of the freshest faces among the protesters.
Two years ago, with the help of secondary school activists calling themselves Scholarism, he forced the Hong Kong government to shelve plans to introduce a pro-China national education scheme in the city's schools.
"I hope I can have a better future and that I can have the right to choose my future in Hong Kong," Wong told Reuters recently, with a self-belief that belies his bookish looks.
Wong was arrested with two other students after a group broke into Hong Kong's Civic Square on Saturday, demanding it be re-opened to the public.
After 40 hours in police custody, he was released without charge or conditions.
Joshua Wong – the Christian teen in center of HK protest who cut his teeth on opposing Communist education in HK pic.twitter.com/T9IJDwQ6YO

— AKahn (@akahnnyc) September 30, 2014
DID

YOU

KNOW

?

'Umbrella revolution': The term has been adopted after protesters began using umbrellas to block tear gas.

But it all started with weather — specifically, rain and sun."

Protest demographics: "Occupy Central with peace and love is a group that's totally led by intellectuals who are well past student age. But university students had launched a class boycott ahead of any concerted action by Occupy. The protests have been a student-led movement, or a student-sparked movement, but now there are members of all kinds of social groups joining them on the streets," said Jeffrey Wasserstrom, author of China in the 21st Century: What Everyone Needs to Know, on www.vox.com.