Anger as tiny French football side Luzenac denied place in Ligue 2
Comments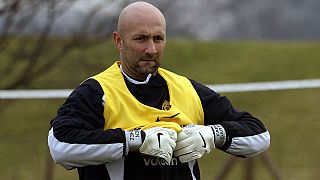 French soccer chiefs' treatment of a tiny team from the village of Luzenac is symbolic of "amateur football being sacrificed on the altar of contempt", it's been claimed.
Luzenac, population 650, saw its team gain promotion to Ligue 2, France's second tier, after finishing second in the National Championship last season.
But Professional Football League (LFP) has denied Luzenac – whose director is former Manchester United goalkeeper Fabian Barthez – a place in Ligue 2, first for financial reasons and then over the size of its stadium, according to AFP.
It has prompted the French Amateur Football Association (AFFA) to today hit out at LFP, demanding the resignation of its president Frederic Thiriez.
"Luzenac is a symbol of amateur football sacrificed on the altar of contempt," said AFFA in a statement. "Today, a certain idea of football, made of morals, ethics and justice is dead, murdered by those who are supposed to defend its values."
In a further blow, Luzenac, based in the Pyrenees south of Toulouse, were told by the French Football Federation they would not be reinstated into the National Championship.
The club refused an offer to play in the CFA 2, the fifth tier of French football.
Les dirigeants de Luzenac ont annoncé qu'ils refusaient de repartir en CFA 2. Tous les joueurs sont libérés ! pic.twitter.com/PmqRjX64Be

— L'Actu Foot (@ActuFoot_) September 10, 2014
Afterwards former France stopper Barthez quit as director of Luzenac.
"It is necessary to know to say stop when we can no longer fight," he said. "And we can no longer fight."
Midfielder Nicolas Dieuze said: "Who would have believed five months after our rise into Ligue 2 that we would be saying goodbye in a car park?
"The players have been released from their contracts. They will head to the job centre."
The team is now expected to compete in the DHR league, the 7th tier.