Juncker seeks 'political' European Commission
Comments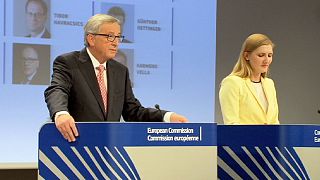 Incoming European Commission president Jean-Claude Juncker says he wants the EU executive to be "very political."
Juncker's line-up included some surprises after weeks of speculation in Brussels.
The former Luxembourg premier said political experience was paramount to become a commissioner, so that's why he has named a number of ex-prime ministers on his team.
"I wanted former leaders, ex-ministers who know the job, who know the Council, the Parliament, who know about public opinion. This will be a very political Commission."
Former French finance minister Pierre Moscovici was named as the new economics czar on the day France announced it would miss EU spending targets.
"I know Mr. Moscovici very well. We were on the Eurogroup together and he knows Europe well, good knowledge of France. He'll have a lot of work in France with regards to France," said Juncker.
Britain's Jonathan Hill lands the financial services portfolio.
It's a victory for a country worried about EU regulation hurting the City of London.
"I think he is the man for the job. What's more I wanted to give the UK an important position, as I didn't want to seen to be settling scores with Britain over the inelegant way the British PM opposed my appointment at the head of the Commission," Juncker added.
Juncker's team of 27 commissioners will now need to be approved by the European Parliament.
They'll each have to take part in hearings with MEPs, who can block appointments they disagree with.
If confirmed, the next EU executive will take over on the first of November.
EU Commission members by Country
Full list of the EU Commission members
President of the European Commission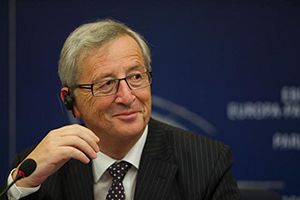 Jean-Claude Juncker
(Luxembourg)
Commissioners-designate

*Frans Timmermans* _(The Netherlands)_
First Vice-President
Better Regulation, Inter-Institutional Relations, the Rule of Law and the Charter of Fundamental Rights

*Federica Mogherini* _(Italy)_
High Representative of the Union for Foreign Affairs and Security Policy / Vice-President of the Commission
Vice-Presidents

*Kristalina Georgieva* _(Bulgaria)_
Budget & Human Resources

*Andrus Ansip* _(Estonia)_
Digital Single Market

*Alenka Bratušek* _(Slovenia)_
Energy Union

*Valdis Dombrovskis* _(Latvia)_
Euro & Social Dialogue

*Jyrki Katainen* _(Finland)_
Jobs, Growth, Investment and Competitiveness
Members of the Commission

*Maroš Šefčovič* _(Slovakia)_
Transport & Space

*Günther Oettinger* _(Germany)_
Digital Economy & Society

*Johannes Hahn* _(Austria)_
European Neighbourhood Policy & Enlargement Negotiations

*Cecilia Malmström* _(Sweden)_
Trade

*Neven Mimica* _(Croatia)_
International Cooperation & Development

*Miguel Arias Cañete* _(Spain)_
Climate Action & Energy

*Karmenu Vella* _(Malta)_
Environment, Maritime Affairs and Fisheries

*Vytenis Andriukaitis* _(Lithuania)_
Health & Food Safety

*Dimitris Avramopoulos* _(Greece)_
Migration & Home Affairs

*Marianne Thyssen* _(Belgium)_
Employment, Social Affairs, Skills and Labour Mobility

*Pierre Moscovici* _(France)_
Economic and Financial Affairs, Taxation and Customs

*Christos Stylianides* _(Cyprus)_
Humanitarian Aid & Crisis Management

*Phil Hogan* _(Ireland)_
Agriculture & Rural Development

*Jonathan Hill* _(United Kingdom)_
Financial Stability, Financial Services and Capital Markets Union

*Elżbieta Bieńkowska* _(Poland)_
Internal Market, Industry, Entrepreneurship and SMEs

*Vĕra Jourová Justice* _(Czech Republic)_
Consumers and Gender Equality

*Tibor Navracsics* _(Hungary)_
Education, Culture, Youth and Citizenship

*Corina Creţu* _(Romania)_
Regional Policy

*Margrethe Vestager* _(Denmark)_
Competition

*Carlos Moedas* _(Portugal)_
Research Science and Innovation