Live: New European commissioners face policy grilling by MEPs
Comments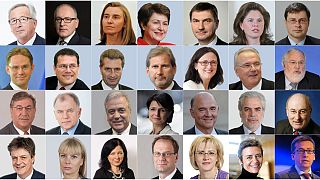 Incoming European Commission president Jean-Claude Juncker has picked who he wants to be on his team for the next five years.
But he doesn't get the final say; the European Parliament will grill each candidate over the course of the next week.
MEPs can vote to accept or reject the whole commission after the hearings.
During the hearings, candidates will reply to five written questions from parliamentarians.
They will compile a report on the commissioner-designate in question ahead of a European Parliament plenary session.
There are some controversial choices amongst the 28 names put forward by former Luxembourg prime minister Juncker.
Britain's Jonathan Hill – up for the financial services job – is seen as being too close to the City of London, while Alenka Bratušek of Slovenia effectively nominated herself when she was still prime minister.
Twitter Dashboard ephearings2014.eu/epdashboard
Monday 29 September

14:30-17:30 Karmenu Vella (Malta) Environment, Maritime Affairs and Fisheries


14:30-17:30 Cecilia Malmström (Sweden) Trade


18:00-21:00 Neven Mimica (Croatia) International Cooperation & Development


18:00-21:00 Günther Oettinger (Germany) Digital Economy & Society
Tuesday 30 September


09:00-12:00 Carlos Moedas (Portugal) Research, Science and Innovation


09:00-12:00 Vytensis Andriukaitis (Lithuania) Health & Food Safety


13:30-16:30 Dimitris Avramopoulos (Greece) Migration & Home Affairs


13:30-16:30 Johannes Hahn (Austria) European Neighbourhood Policy & Enlargement Negotiations


18:00-21:00 Christos Stylianides (Cyprus) Humanitarian Aid & Crisis Management


18:00-21:00 Maroš Šefčovič (Slovakia) Transport & Space
Wednesday 01 October


09:00-12:00 Corina Crețu (Romania) Regional Policy


09:00-12:00 Mariane Thyssen (Belgium) Employment, Social Affairs, Skills and Labour Mobility


13:30-16:30 Jonathan Hill (UK) Financial Stability, Financial Services and Capital Markets Union


13:30-16:30 Vĕra Jourová (Czech Republic) Consumers and Gender Equality


18:00-21:00 Tibor Navracsics (Hungary) Education, Culture, Youth and Citizenship


18:00-21:00 Miguel Arias Cañete (Spain) Climate Action & Energy
Thursday 02 October


09:00-12:00 Pierre Moscovici (France) Economic and Financial Affairs, Taxation and Customs


09:00-12:00 Phil Hogan (Ireland) Agriculture & Rural Development


13:30-16:30 Kristalina Georgieva (Bulgaria) Budget & Human Resources


13:30-16:30 Elżbieta Bieńkowska (Poland) Internal Market, Industry, Entrepreneurship and SMEs


18:00-21:00 Margarethe Vestager (Denmark) Competition
Monday 06 October


14:30-17:30 Valdis Dombrovskis (Latvia) Euro & Social Dialogue


14:30-17:30 Alenka Bratušek (Slovenia) Energy Union


18:30-21:30 Andrus Ansip (Estonia) Digital Single Market


18:30-21:30 Federica Mogherini (Italy) High Representative of the Union for Foreign Affairs and Security Policy / Vice-President of the Commission
Tuesday 07 October


09:00-12:00 Jyrki Katainen (Finland) Jobs, Growth, Investment and Competitiveness


09:00-12:00 Frans Timmermans (Netherlands) First Vice-President, Better Regulation, Inter-Institutional Relations, the Rule of Law and the Charter of Fundamental Rights