Video: Iceland volcano Bardarbunga spews lava fountains of up to 100m
Comments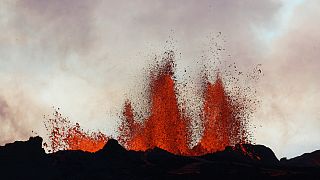 In Iceland, the second Holuhraun effusive lava eruption began early Monday morning, producing considerably more lava than the first eruption in Holuhraun on Friday morning.
However, today at noon, the Scientific Advisory Board of the Icelandic Met office declared that "a noticeable decrease in seismicity has occurred during the last 24 hours. The level of activity is approximately half of that during recent days. Since midnight today, around 300 earthquakes have occurred. At the same time yesterday, 01 September, around 500 earthquakes had been detected."
In addition the board said that "the eruption has not created any ash-fall."
The experts say it is unclear how the situation will develop and they are not ruling out any eventual scenario.