MSF calls on UN and West to get involved in Ebola epidemic
Comments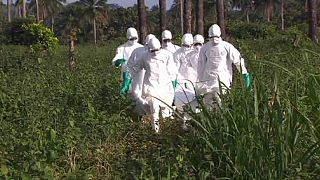 Medecins Sans Frontieres says the United Nations needs to step up and take charge to stem the Ebola epidemic and accused the West of not doing enough.
The medical charity said the spread of the disease was getting worse and neither the MSF, the World Health Organisation nor the governments of Liberia, Sierra Leone and Guinea had the "means to contain it".
The head of the charity said there was a lot of talk from western governments but "that's it".
"I am extremely pessimistic if there is not a substantial international mobilisation," said Mergo Terzian, the president of MSF.
"Organisations like the WHO and MSF will be not capable to mobilise additional human resources, additional logistics in order to control the epidemic," he said.
Terzian said that the UN Security Council should adopt a resolution to pressure countries to get involved in the crisis, in particular European nations and the United States.
"There are security risks in the region if the international community is not involved," he said.
"The United Nations Security Council should take over the dossier and coordinate with major governments that have the capacity to deal with a major epidemic."
Terzian took a swipe at Western governments who, he said, were not doing enough.
"As long as Western countries are not infected, I have the impression there will not be a serious mobilisation," he said. "There have been a lot of speeches and promises of financial support, but that's it."
Terzian said it was still not too late to turn the tide, but that countries with the necessary capacity and expertise to handle such a crisis had to act immediately.