Manchester United striker Wayne Rooney named England captain
Comments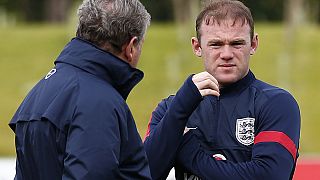 Manchester United star Wayne Rooney has been named the new captain of the England football team, it's been confirmed.
The 28-year-old striker, who succeeds fellow Liverpudlian Steven Gerrard, will lead his country for the first time competitively on September 8, when England take on Switzerland in their opening Euro 2016 qualifier.
Rooney, also captain of his club, said the appointment was a "dream come true".
England manager Roy Hodgson installed Rooney as he named a host of youngsters in his latest squad, including Arsenal teenager centre half Callum Chambers.
Being named England captain is a dream and something I'll take great pride in doing. My exclusive interview is here – http://t.co/RwqO59k0vT

— Wayne Rooney (@WayneRooney) August 28, 2014
"I gave it a lot of thought but Wayne is an obvious choice," Hodgson told reporters. "He deserves it – his commitment to the cause, his experience. He has captained England in the past and, of course, he has that responsibility at Manchester United now.
"I've had a long conversation with him and he's prepared to accept the pressures that the England captaincy brings. It's important that the player wants to take on that enormous responsibility."
The former Everton forward, who has now been appointed captain twice within a matter of weeks, has scored 40 goals in 95 international appearances. But he has found the net just once at a World Cup, breaking his drought against Uruguay in the summer.
Rooney, who has had on-field disciplinary problems in his career, was sent off playing for England against Portugal at the 2006 World Cup and against Montenegro in a Euro 2012 qualifier.
He was also heavily criticised after mouthing the words "nice to see your home fans boo you" following England's dismal 0-0 draw with Algeria at the 2010 World Cup.
But Hodgson said: "I've got to judge him on the two years I've been with him.
"It's not for me to look back too much and whatever misdemeanours the player may have had. In the two years with me I've had no reason whatsoever to question anything about his character or desire to play for his country or his wholehearted willingness to offer himself in every situation.
"I'm not concerned about anything else, but he has that baggage with him and he will have to accept that as an added part of the pressure."