Canada sends hilarious barb to Russia over Ukraine 'incursions'
Comments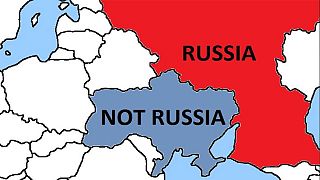 Canada has sent a sarcastic online barb to Russia over its involvement in Ukraine.
The country's delegation to NATO tweeted a map of eastern Europe, patronisingly pointing out the Russia – Ukraine border.
INTERNET
TROLLS
A troll, in terms of the internet, is someone who posts inflammatory online comments in the hope of provoking an emotional response.
But it is open to question whether the Twitter account of Canada's NATO delegation could be described in such terms.
That is because trolling is essentially subjective – some may regard the post as a legitimate contribution to the discussion, rather than an attempt to provoke.
It comes after Vladimir Putin, responding to accusations from Kyiv, admitted Russian soldiers had been caught in Ukrainian terroritory, but that they had crossed the border 'accidentally'.
The tweet, accompanied with a map marked 'Russia' and 'Not Russia', for Ukraine, read: "Geography can be tough. Here's a handy guide for Russian soldiers who keep getting lost and accidentally entering Ukraine."
The message, a rare moment when the sit-on-the-fence world of international diplomacy comes crashing down, proved hugely popular on Twitter. More than 5,000 liked it and a further 13,000 retweeted it to their followers, at the time of writing.
Some, responding to the tweet, claimed the map had included Crimea within the area marked 'Not Russia'.
Kremlin-backed forces seized control of the peninsula earlier this year amid the worst East-West crisis since the Cold War. The territory then held a referendum, in which it voted to join Russia, a move the West sees as illegal.
NATO (North Atlantic Treaty Organisation) suspended Russia's membership in May amid the ongoing crisis surrounding Ukraine.
Geography can be tough. Here's a guide for Russian soldiers who keep getting lost & 'accidentally' entering #Ukrainepic.twitter.com/RF3H4IXGSp

— Canada at

NATO

(@CanadaNATO) August 27, 2014