Mexico politician filmed dancing with escorts
Comments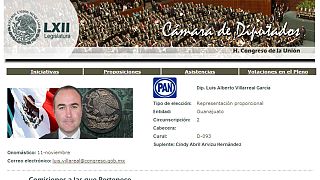 Mexico's National Action Party has replaced its congressional leader, Luis Alberto Villarreal after he was seen in a video dancing with escort girls.
Mr Villarreal was recorded dancing and holding younger women who were hired as escorts at the event earlier this year during a PAN conference.
In the video released by the Reporte Indigio website entitled La fiesta de los 'dipu-tables, someone appears to say: "We are going to run out of Viagra."
Gustavo Madero, the party's president, said: " I have taken the decision to renew the leadership and deputy leadership of the parliamentary group of the PAN in the Chamber of Deputies.
Jorge Villalobos, the deputy leader of the PAN in the lower house, will also be replaced.
Mr Villarreal apologised for his actions and the hurt it may have caused especially to "my family, my loved ones and in general, to the entire population".
The question on everyone's lips is: who funded the party? PAN was handed 1.5 million pesos of public funds to cover the assembly but Mr Villarreal was adamant he would never use public funds for a private event.
Most damning in the video is the coming and going to the bedrooms by politicians. Equally murky was the sight of careeer criminal, Edmirel Sanchez, who was arrested in 2004 for the possession of 87kg of marijuana. Sanchez appeared as a central figure at the party, leading to claims of links between politicians and drug lords.