How #iftheygunnedmedown drew media into Michael Brown furore
Comments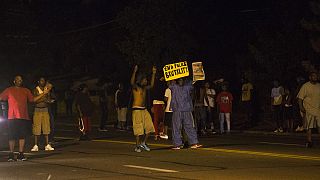 The media has been dragged into protests over the police shooting of an unarmed black teenager in the US.
CJ Lawrence, a criminal defence lawyer, took to Twitter to highlight what pictures media were using of Michael Brown, 18, who died in St Louis, Missouri, following a struggle with police on Saturday (August 9).
One was of Brown listening to music, the other of him in a sports shirt making what some have suggested is a gang sign with his hands.
Black Twitter #IfTheyGunnedMeDown Is The Movement We've Been Waiting For http://t.co/ysi7t9XvdN via @blackvoicespic.twitter.com/SRpYP8jFgq

— #NP ON 87.7FM BOSTON (@B87PLAY) August 12, 2014
Lawrence, who seemingly perceived the media were choosing to use the sports photo over the other, began what became a hugely-popular trending topic.
He posted a tweet with two pictures – one of him graduating, the other in a less favourable light with a bottle of alcohol in his hand. He then asked which picture the media would use if he was shot dead, spawning the hashtag #iftheygunnedmedown
Yes let's do that: Which photo does the media use if the police shot me down? #IfTheyGunnedMeDownpic.twitter.com/Ng0pUlxWhr

— YoungGifted&Black✊ (@CJ_musick_lawya) August 10, 2014
The hastag has been tweeted 160,000 times, double the popularity, at the time of writing, of #RobinWilliamsWillLiveOnForever
How the popularity spread…
#IfTheyGunnedMeDown is responding to media portrayals of young black men killed by police. http://t.co/wvAQYUNCHZpic.twitter.com/WpjyJeuWFe

— WNYC (@WNYC) August 12, 2014
#IfTheyGunnedMeDown Confronts How Minority Deaths Are Portrayed in Media http://t.co/QRd6ulQokg#Fergusonpic.twitter.com/aNAKTR90OX

— Jim Roberts (@nycjim) August 12, 2014
#IfTheyGunnedMeDown which picture would the media influence yall mind with? pic.twitter.com/LPCKwJHoqc

— ⠀⠀⠀⠀⠀⠀⠀⠀⠀⠀⠀⠀⠀⠀ (@KINGDXVID) August 11, 2014
#IfTheyGunnedMeDown Tweets should be required reading in every journalism class in America.

— JRehling (@JRehling) August 10, 2014