Dozens dead in Boko Haram attack
Comments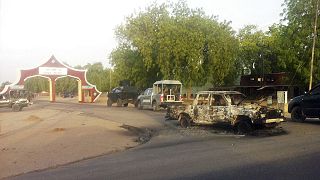 Residents from Gwozo City, north-east Nigeria, have accused the Islamist group Boko Haram of killing dozens in an attack early on Wednesday.
The attackers burned police and local government offices when they went on the rampage in the city located 135 km southeast of Maiduguri, reports Agence France-Presse.
"Dozens of our people were killed or massacred with guns," resident James Mshelia told AFP.
The group is believed to be behind the deaths of more than 10,000 people since the start of its offensive in north east Nigeria since 2009. They are also accused of kidnapping of more than 200 schoolgirls earlier this year.
The group was initially focused on opposing Western education. Its official name is Jama'atu Ahlis Sunna Lidda'awati wal-Jihad, which in Arabic means "People Committed to the Propagation of the Prophet's Teachings and Jihad".
But locals nicknamed it Boko Haram, which means 'Western education is forbidden' in the Hausa language. It wants to overthrow the Nigerian government and create an Islamist state.
What started out as school to promote Islam and its teachings went on to become a recruiting ground for jihadis and eventually spawned what is classed by the US State Department and the UK government as a terrorist group.