IDF releases video of Hamas rockets
Comments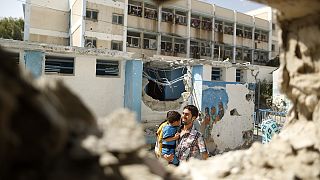 The Israel Defense Force has released a video that claims to show Hamas rockets being fired from populated areas.
The 40-second clip with the description "A Double War Crime" is in response to claims by the United Nations of atrocities by Israel against Palestinians sheltering in schools and hospitals.
The IDF has repeatedly accused Hamas of hiding under the cover of civilian areas to launch their rockets into Israel and the video is being used to try to justify Operation Protective Edge.
At least 15 people were killed during an Israel artillery assault on a UN-run shelter full of civilians on Wednesday.
In response to the attack, the UN Secretary General Ban Ki-moon said: "Nothing is more shameful that attacking sleeping children."
To date more than 1,300 Palestinians, mostly civilians, and 59 Israelis, including three civilians, have been killed.