"Farther than any other wheeled vehicle on another world". That's the record breaking boast of Opportunity – NASA's Mars rover.
The ageing six-wheeled vehicle, which first landed on the Red Planet in 2004 has clocked 40 kilometres on the surface surpassing the benchmark set in 1973 by a Russian probe on the moon which covered 39 kilometres.
The intrepid explorer which is about the size of a golf cart was built to drive only about a kilometre but during its 10 year stint on Mars has surpassed its design capabilities.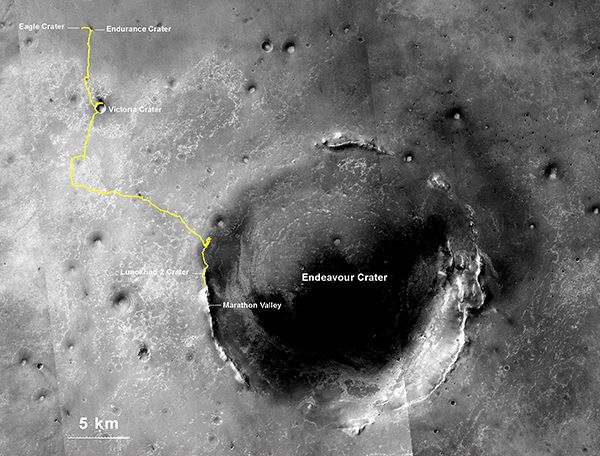 Earlier this week the robot rover travelled another 48 metres as it advanced along the rim of a Martian crater taking its odometer to just over 40 kilometres, according to NASA's Jet Propulsion Laboratory in California.
Driven to Excel: Oppy passes Russia for off-Earth driving record. ~25mi(40km) + going http://t.co/Q35MRPsCvwpic.twitter.com/x4BxZZOwo5

— Spirit and Oppy (@MarsRovers) July 28, 2014
It's reckoned Opportunity has a few more kilometres to travel. Scientists say they plan to direct the rover to a nearby Martian valley that would take its total distance to 26.2 miles, so completing the first marathon on Mars!