Battle of Caporetto, Austrians and Germans break through the Italian line
Comments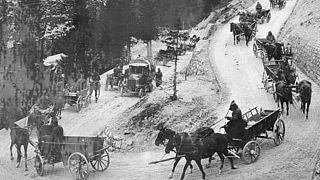 1917: October 24
Launched on October 24 1917, the Battle of Caporetto was one of the most effective successes of the war by any belligerent. Also known as the Twelfth Battle of the Isonzo, German and Austro-Hungarian forces broke through the Italian line they had been fighting since 1914, surprising the Italian forces and therefore making significant gains of over 25 km into Italy. The scale of the Italian defeat at Caporetto led to both a change in government in Italy and Luigi Cadorna's dismissal as Chief of Staff.
The initial attack, aided by misty conditions, utilised heavy artillery, high explosives, gas, and smoke; the combined force broke through the Italian Second Army's lines almost immediately.
The secondary attacks at Caporetto and the southern coast under Boroevic were not as successful. Moreover the success of the combined Austro-Hungarian/German forces in moving forward so rapidly began to generate problems of its own: by November 2, supply lines were at full stretch and starting to fail.
On November 10, Cadorna retreated swiftly to the River Piave near Venice. A huge loss of around 300,000 casualties had been incurred, with virtually all artillery lost. The new Prime Minister, Vittorio Orlando, promptly received increased military support of six French Army divisions and five British divisions from Allied governments, who had previously left the Italians to fight the Austro-Hungarian army alone on the Italian front.
While the battle was a decisive rout, the gains were soon reversed and the Central Forces were unable to push further into Italy.