Rounding off the World Cup podium
Comments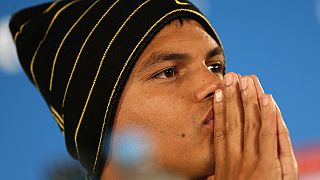 The National Stadium in Brasilia plays host to the World Cup third-place play-off between Brazil and the Netherlands.
After their humiliating defeat in the semis, Brazil will be looking to save face and restore some national pride in a game Dutch coach Louis Van Gaal believes is pointless.
Brazil had hoped to win a record extending 6th title on home soil but were brutally halted by the Germans.
They will now look to end their own tournament with a third-place finish, although it will do little in helping a stunned nation recover the state of shock they are in.
Captain Thiago Silva returns from suspension to shore up a shaken defence that leaked five goals in the opening half an hour against Germany.
Other changes could see Dani Alves and Maxwell start instead of Maicon and Marcelo at the back.
The game will mean more to the hosts than to the Netherlands who will be playing their second third-place game at the finals – 16 years after their first which was a 2-1 defeat by Croatia.
Swansea goalkeeper Michael Vorm could start as he's the only one of the 23-man squad yet to boot up in Brazil.
It will be coach Louis van Gaal's last match in charge of the national team before he heads to Manchester United.
Norwich midfielder Leroy Fer is the only absentee for Van Gaal, who is likely to use the game as experience for his younger charges.
To quit or not to quit
It's definitely van Gaal's last game at the helm of the Oranje but could this be Brazil's final match with Luiz Felipe Scolari in charge.
The Beleaguered boss who led the Selecao to their last World Cup title in 2002 has, so far, refused to quit following his side's crushing 7-1 defeat to Germany.
65 year old Scolari is under increasing pressure to step down but says he will decide his future after the tournament has finished.
The president-elect of the Brazilian Football Confederation Marco Polo Del Nero recently said Scolari should keep his job because of the good work he did during his 19 months in charge.
The manager has lost just three times in 28 matches since taking the job while in 11 competitive fixtures they have lost just once but that was the nation's heaviest World Cup defeat on Tuesday.
We might be wrong
It's that time again for the Euronews sports team's predictions.
We might be wrong, but we'll have a crack at Saturday's match anyway.
Brazil will be keen as mustard to end their own tournament on a winning note while the Dutch appear not to care too much about a game many others also feel is a waste of time.
With this in mind we predict Brazil to win one nil in the capital and restore a modicum of national pride.
Send us your comments and predictions via social media using #TheCornerScores.