Crowdfunding project raises $38,000... for a potato salad
Comments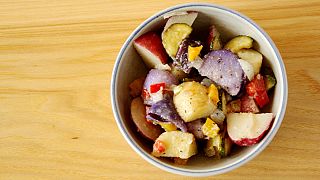 Zack "Danger" Brown of Columbus, Ohio, wanted to make potato salad. He is now making history by hitting the top spot for most successful crowdfunding project on Kickstarter.
His hope of raising 10$ to buy the ingredients for the salad proved successful beyond his wildest dreams. With 38,425$ (28,258 euros) pledged at time of publication, his project is funded 384,255%, with no sign of slowing down. And, with the fundraising campaign set to last another 24 days, no doubt many more thousands of dollars will follow.
Why potato salad? "Dude, I don't know. It seemed so right," he told Reddit users during a Ask Me Anything session. He decided to do four types of potato salads and called for recipes. People have been glad to oblige, debating the merits of the mayonnaise or the German-style preparation (with bacon, vinegar and sugar).
Despite Brown's dutiful warnings – "It might not be that good. It's my first potato salad" – donors were still generous: 1,093 of them contributed 1$ or more, 215 10$ or more and 66 50$ or more. As per Kickstarter's tradition, each donor will receive a reward depending on the amout given. For instance, 10$ will give you, among other things, a bite of the salad (Brown acknowlegdes this will be a problem), 20$ a potato-themed haiku and 50$ a recipe book filled with – you guessed it – potato salad recipes.
Kickstarter works on an all-or-nothing basis, meaning Brown will only get the sum after August 2. So no potato salad until then, even if the 10$ are secured.
But the operation is not without risks: before August 2, Kickstarter, normally dedicated to funding creative projects, not starchy starters, may decide to pull the project entirely. When asked about a possible cancellation, Brown, when he doesn't try to avoid answering, wrote, mysteriously, "I've already accomplished everything I wanted to accomplish and more. I have no worries." Others argue his fundraising campaign respects Kickstarter's terms of use, including being "honest and clearly presented" and "creating something to share with others".
The campaign could be also exposed as a publicity stunt or an ironic exercice to underline the flaws of the crowdfunding system. But until then, we are all invited at Brown's place to eat potato salad.
Photo credit: Flickr/Notahipster