Watch: underwater footage from inside the wreck of Costa Concordia
Comments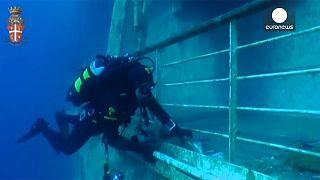 Italian police have released underwater footage showing the inside of wrecked cruise ship Costa Concordia.
The vessel hit a reef off the island of Giglio in January 2012 and capsized, killing 32 people.
The footage, released days before the cruise liner is set to be refloated, shows the submerged decks of the ship littered with objects, including pillows, shoes and books.
Some of the footage was filmed when the hulk of the 290-metre ship was righted and secured in a complex operation in September 2013, other parts in the months after the accident, police said.
It was revealed on Thursday (July 3) the cruise liner would be refloated within 10 days and taken to Genoa to be broken up for scrap.
"Following installation of the last sponson (stabilising devices) we can start the countdown to refloating and final departure of the wreck," Michael Thamm, chief executive of Costa Cruises, a unit of the liner's owner Carnival Corp, said in the statement.
The ship's captain, Francesco Schettino, is on trial accused of manslaughter, causing a shipwreck and abandoning ship.